Gift Giving: Decorative Embroidery Hoops
Time for another gift giving recap!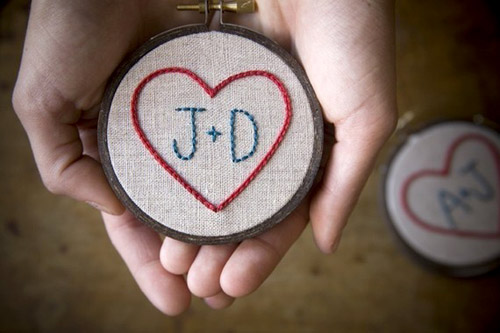 Shockingly this gift idea came from another Pinterest inspiration.  I saw these sweet little hoops and just loved the idea of them.  I filed them away, but didn't know what I would use the idea for yet.
And then when I was planning my Christmas gifts I remembered my mom's "bride room." One of the guest rooms at my mom's house is decorated with her daughters' bridal portraits as well as pictures from her own sisters' weddings.  Perfect!
I decided to do a hoop for my mom and dad, my sister and her husband and for Christian and I.  I wanted to include our wedding dates and I thought it would be nice to also embroider flowers from each of our weddings.  In order to give the hoops some dimension and texture I wanted to experiment with some 3D elements for the flowers.  After playing with buttons and felt I looked into ribbon embroidery. This is mostly done the same way as hand embroidery so it didn't seem too daunting.  So I ordered the supplies and got to work.
I have to say I really like how they all turned out.  I am sure with time my ribbon embroidery will improve, but I feel like I did pretty well for being so new to the medium.  Anyway, here are some close ups of each hoop…
My mom and dad had a true seventies wedding…peasant-style dresses, blue tuxes with pastel colored ruffled shirts, feathered hair and a fro or two.  She also used her favorite flower, the daisy.  Her sisters were her bridesmaids and they wore wreaths of daisies in their hair.  I replicated those wreaths on their hoop.
I stitched the stems and lettering with a backstitch and used the "lazy daisy" for the leaves and the petals.  The stems and leaves are with normal embroidery floss, but I used 4mm silk ribbon for the flowers.
My sister and her husband had a sweet springtime wedding.  I can't believe that was almost two years ago now!  She used a variety of spring blooms, but the most striking were the blue irises.
The ribbon embroidery was perfect for creating the irises.  The fullness of the ribbon compared to embroidery floss really helps to create a nice three dimensional flower.  I used 4mm ribbon for the actual flowers and used 7mm ribbon to create the leaves.
I got married at Christmas-time in a church with burgundy carpet.  So I stuck with simple greens and whites.  My bridesmaids carried just a few white roses still on their stems and that is what I choose to put on our hoop.
I made the roses out of 3/4 inch satin ribbon.  I looked all over the interwebs to find a good tutorial for a rose that I liked and I settled on something similar to this tutorial.  I had originally planned on using felt to make my roses and I even had it stitched onto the hoop and I realized that felt wasn't right.  These satin roses have more of the feel I was going for with the hoops.
I really like the way the hoops all look together.  The idea came together very nicely and I hope they look good in mom's "bride room."