I hope you and your families had a wonderful Christmas!  We certainly did…we had all the family here and had a wonderful couple of days of food, presents, and time spent with families. And only one trip to the emergency room (Esther got her eye stabbed by her sister's fondue fork…just a scratch and she is totally fine…could have been so much worse).
I did hardly any sewing for Christmas this year.  The one thing that I completed was a stocking for little Miriam.
I didn't even make Christmas pajamas this year.  I had the fabric all purchased was totally going to do it, but then the weather changed to be way colder and the short sleeve shirts and pants were no longer going to be acceptable.  So, off to the mall we went to purchase matching fleece jammies…2 days before Christmas.  It was a miracle we found some, but we did!
So, now that it is the new year folks are doing round up posts or posting lists what their plans for the next year are.  I thought I would take this opportunity to do a round up of several little things I sewed last year, but never actually posted about.
I had several friends welcome new babies last year so I whipped up some cute little baby gifts.
The first was for my fellow Doctor Who watching friend.  She recently moved away, but she would come over and watch new episodes with me while Christian was working.  So, a gift for her newest little boy was a no brainer.  I made a couple Doctor Who themed shirts.  For one I bought a TARDIS embroidery design and stitched it onto a onesie with my favorite Doctor's (Ten) favorite saying…Allons-y!  And then I used a freezer paper stencil and fabric paint to make another shirt declaring that "Bowties are cool" as per Eleven.
The other two ladies that I made something for were both having their first little girls after each having two boys, so I felt something cute and girly was definitely in order.  My favorite simple dress to make right now is the Geranium Dress from Made by Rae.  It has the cutest silhouette and is very simple to whip up quickly.  I made one alteration that made the sewing time even quicker.  I used the pleated skirt pattern piece, but instead of pleating I simply gathered where the pleats would be.  So, I still get the streamlined sides of the dress, but it still has the cute girly-ness of the gathers.  I have to say, this is probably my favorite way to make this dress.
For the yellow one I also used some piping along the bottom of the bodice just to give it a touch more visual interest.  I also used a snap for the closure instead of buttons because this dress was for a smaller baby and I just hate having to fasten real buttons on the backs of tiny babies.  It is just so difficult until they can sit up better on their own.
For the pink one, I decided to make a tunic and include some bloomer shorts.  I actually made the tunic out of two fat quarters.  I had *just* enough to squeeze out a 12-18 month size.  For the shorts I just used one of my self drafted baby bloomer/shorts patterns.  This friend also uses cloth diapers and I knew she would need the extra room for all the fluff. 🙂
I, of course, also had a baby this year and I wanted to make the girls something special for their big sister presents.  They love being mamas to their dolls and animals and as Miriam's arrival was approaching they were ramping up their pretend play in this area.  So, it seemed like a good time to make them their own little carriers.  Dinah refused to be photographed this day, so I just have Esther here.  But Dinah's is identical, except hers has a D on the pocket.  I used the pattern from Oliver + S's Little Things to Sew and they really came together so nicely.  I always love their patterns, they are so well written and I usually learn a new trick or two.  This book is so great and has lots of sweet projects to try.  The one change I made to their carriers is that instead of fitting the carrier on them and then placing the velcro, I simply placed a very long strip of velcro on the straps so the carrier can be adjustable.  Now they can wear their babies for way longer!
Later on I sewed up one more quick Geranium…this time for my own Miriam.  She was "black and white Dorothy" riding on her tornado (stroller) for Halloween.  I used a simple black and white gingham and left it unadorned for Halloween.  After the trick-or-treating I spiced it up a bit by adding lime green buttons on the back and a cute little lime green and white striped bow on the front.  Too cute!
The final project I'm sharing today was I think one of my very few pieces of "selfish sewing" from last year.  With the baby and diaper carrying days approaching I knew I wanted to have a larger wallet instead of a purse.  Basically something that could hold everything of importance, including my phone, and would become a clutch when I didn't have cause to carry the larger diaper bag.  I scoured the interwebs looking for just the right thing and found the Necessary Clutch Wallet Pattern at Emmaline.  It is such a great pattern and for as fussy as it looks, really didn't take that long to make.  For this I followed the pattern straight up, but I think for future wallets I would add a panel of the stiff interfacing to the front and the back of the wallet as well, just to help it be a bit more rigid.  I did make this with Joann's home dec weight fabric and I know that helped with stiffness as well.  I just love this wallet.  It is light weight, but has slots for all my cards and several sections.  There is a zippered center pocket as well as two flat pockets behind each card holder.
Okay, I think that is everything.  The only thing remaining is the baby wrap that I made out of gauze and a square of quilting cotton the day before the baby came because I needed something to do. 🙂  However, it is really hard to get a picture of oneself wearing a baby in a wrap, so you will have to content yourself with this picture of Dinah trying it out for me.
I hope your New Year is starting out bright!  I am looking forward to what is in store for us too!  Coming up…Project Run & Play starts in two weeks!  Eek!  Get sewing!
My husband likes to get me technology. And I like to receive it. He recently got me a Samsung Galaxy tablet to replace my iPad. (Which is for sale…nothing wrong with it, I just like the Android format better…message me if you are interested.) I love my new tablet, but I needed a case for it. I did a little research and decided I could make my own.
So, I set about devising my plan/pattern. I knew I wanted the tablet to be easy to remove from the case and I wanted it to be hardbacked so it would stand on its own. I also wanted it to have removable boards since it would be made from fabric and it was important that the case be washable.  I measured my tablet and got to work on figuring out what fabric pieces I would need and how I would construct the whole thing.  This process took for.ev.er.  But it was necessary to have a good plan before I started hacking into my lovely (and not cheap) home dec fabric.  I am not going to post a full tutorial here, but here are a few construction details:
1. The tablet is held in place at the corners with a couple fabric triangles and a couple pieces of elastic.  This holds the device in the case securely, but allows me to take it out easily.  These corner pieces are also designed so as not to obscure any of the buttons or speakers on the sides of the device.
2. There are three removable boards, tucked into pockets to make the case rigid.  I actually cut up an old 3-ring binder to be the boards and then I covered them with some coordinating cotton that I had lying around.  (Just so they didn't look like a cut up, old 3-ring binder.)
3. The placement and design of the boards is to allow the case to stand up on its own.  It has one larger board behind the actual device and then the cover is divided into two sections so that it folds over on itself.  The layer of fabric inside the case is lined with soft batting to help cushion the tablet.
4. It closes with a small piece of elastic and button.  The button has the dual purpose of securing the closure as well as helping to prop up the case.  I simply fold it around and prop the edge underneath the button.
I do love it and I think it turned out really well.  There are a few things I would do differently if I were to make another one (which I probably will someday).
I would line the outside fabric with at least medium-weight interfacing.  I didn't think about it when I was at the fabric store and then later when I was constructing it I was "in the zone" and didn't want to wait to go back to the store in a few days.  The case is still fine, but the interfacing would have helped to make the outer layer of fabric look more smooth.
Topstitching…this was actually in my original plan; however, I neglected to leave enough room around the pockets to do the topstitching.  I should have made the center seam a bit narrower and that would have scooted the boards in just a bit.  The topstitching would have made the outside look a little more polished and professional.
The elastic…I think the white elastic is fine, but it stands out so much against the brown of my lining.  I probably should have found brown elastic or dyed the elastic.  I also should have sandwiched the top piece of the elastic between the outer fabric and the lining, instead of to the pocket.  It just pulls at the pocket fabric causing it to pucker some.
The next thing I wanted to make was a coordinating tote bag/purse to go with my new case.  I'm not usually a purse person…At this point in life I am a diaper bag person, but I found myself in a few situations where I needed my own bag.  Church is the biggest one that comes to mind…once I drop off the children, I also drop off their bags.  So then I am left to carry in my hands my keys, tablet, Children's Ministry pager, security tags, and my phone.  So I whipped up a bag.
It has a bit of gathering at the front and some trim from the tablet case fabric to give it visual interest.
And it is also lined with the fabric from the tablet case as well as another coordinating fabric. (I love this peacock blue color.)
It has a little divided pocket that can hold my phone and some pens.
I LOVE this bag…so much.  It turned out exactly how I had in my mind and it is really perfect for what I need it for.
So there you have it…my new tablet case and coordinating tote bag.
Linking up with: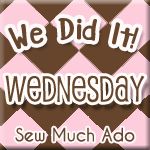 Before I got started on Christmas presents I was distracted with sewing for the Georgia-Florida game. I decided to make a red dress for myself. This process included making and adjusting at least two "muslins" before even attempting the final product. I came to a couple conclusions through this process…1.) Traditional patterns have lots (lots!) of sizing issues and 2.) I didn't really love sewing for myself. Since then I have made a few more things for myself, but they were from simple tutorials and much smaller projects. At this point I would rather do my "real" sewing for other people.
Here is the red dress…
The other project I did was small and really an excuse to use my new serger. I cut two onesies in half and serged them together to create a couple Gameday onesies for Dinah. Too cute!